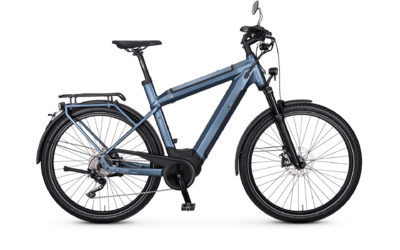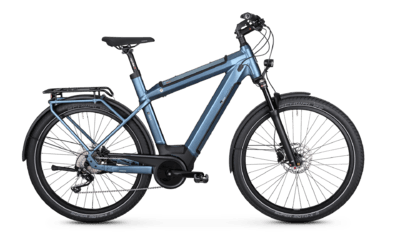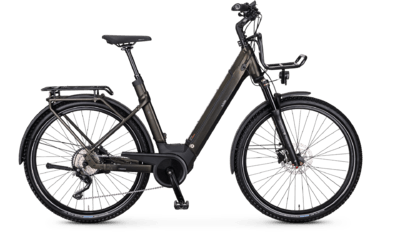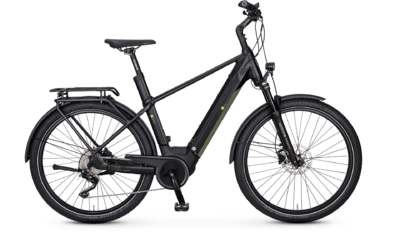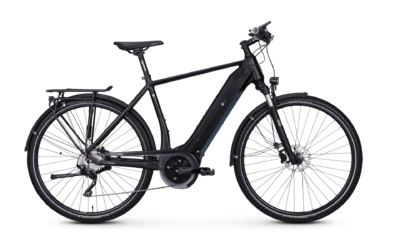 Trekking e-bikes for long-term sports use
Extended trips with zero-emission drive system
Our powerful Trekking e-bikes are the perfect choice for anyone who likes to go on trips and tourists who want to travel by bike. A reliable companion both in the great outdoors and on the road, the pedelecs offer the perfect balance between weight, stiffness and high-quality equipment. Extensive bike trips (even with challenging terrain) can be mastered perfectly, thanks to the quiet, zero-emission electric drive. The attractively integrated motor offers assistance with pedalling just when you need it, while still giving an authentic cycling experience.
High-quality suspension forks combined with a relaxed sitting position guarantee maximum comfort on long bike rides. And the other equipment won't leave you wanting: all our Trekking e-bikes are fitted with Shimano components groups, which work perfectly and have been proved over long-term use. Sturdy panniers to transport luggage and lighting systems featuring sidelights are just as central to our Trekking e-bikes as their sporty, clean design.

Our Trekking e-bike models 15ZEHN, 13ZEHN and 11LF are durable, wind-proof and weather-proof everyday companions for extensive bike rides!
Manufaktur's quality meets classic German engineering
Continental has been focusing on mobility for more than 140 years. After a long time focusing on the field of car and bicycle tyrework, Continental is now sticking to its work on solutions for zero-emission mobility for the future. The experience gained in the construction of batteries for hybrid cars and in the manufacture of electric automotive engines, as well as the expertise from the production of components and belt drives in the bicycle sector, were the ideal starting point for the development of innovative drives for e-bike manufaktur.
Find a e-bike manufaktur dealer near you quickly and easily?